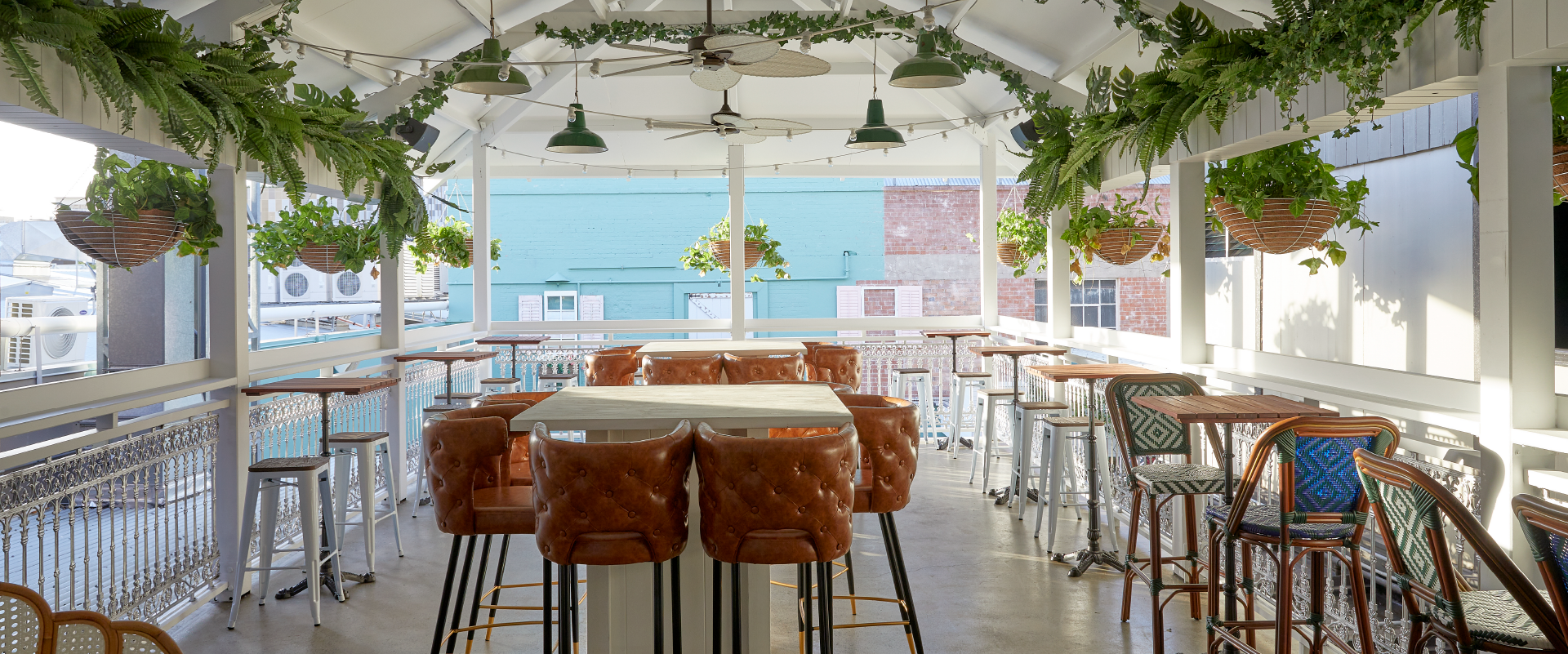 The Prince Consort
With lauded cocktail joints, grungy dive bars, lively dance clubs and everything in between, Fortitude Valley's nightlife precinct is known primarily for its broad spectrum of hotspots. Mirroring The Valley's multifaceted appeal is The Prince Consort, an eight-venues-in-one arrival that has recently made a sizeable splash in the heart of the party hub. Earlier this year the team behind award-winning Sydney-based hospitality group Tilley & Wills Hotels (owners and operators of Sydney's Greenwood Hotel, Oxford Art Factory and Newcastle's Hotel Delany) acquired the storied Prince Consort Hotel building – a long-standing fixture of Fortitude Valley's bar scene that has housed numerous venues (most recently The Elephant Arms Hotel and popular live-music venue The Foundry) since opening in 1888.
With three levels and multiple spaces to work with, the Tilley & Wills team has sought to create an inclusive experience for revellers that affords them agency to curate the night as they see fit. Under The Prince Consort banner exists a collection of concepts that can cater to wild and rambunctious nights out, after-work feeds, televised sport fixtures, pre-show drinks and live entertainment – whatever the night dictates!
Event Spaces
Leading the venue's first wave of concepts is The Prince Consort's ground-floor parlour-style pub (and its private booth space The Naughty Corner), which flows into the Chelsea flower garden-inspired open-air space The Garden Bar. Both areas feature a lush colour palette of green, cream and timber, with hanging planters and flowers featuring prominently in The Garden Bar's aesthetic. Upstairs where The Foundry used to operate is glamorous Hollywood-inspired supper club and entertainment venue La La Land, where the glitz of mid-century Los Angeles gives the lounge bar a magical larger-than-life vibe (think a palette of deep teal, sapphire and forest greens, plus cushy booths, crystal chandeliers and neon).
The versatile venue will be used to host everything from banquet dinners to cabaret-style shows and DJ-led dance parties. Next to La La Land is The Bowie Rooms, a set of unique spaces that are perfect for private functions, intimate shows or as extra room for general public overflow on big nights. Opening in the old ground-floor Foundry Records space later in November is 400 Rabbits Cantina, a lively So-Cal-meets-Mexico bar and eatery perfect for those that think tacos and tequila are the ultimate combo. In the cellar level sits Greaser, the only holdover from the building's previous iteration, which has been given some slight rock 'n' roll-inspired updates – we're talking cosmetic tweaks that reinforce the venue's scruffily charming dive-bar identity. The Yorke Suites can be found on the third floor – a collection of offices and creative spaces for musicians, record labels, media publications and more. The suites have been named after Australian-born broadcaster, historian and music journalist Ritchie Yorke – an homage that aims to encourage the same kind of inspired creativity Ritchie was known for.
Food & Beverages
Overseeing The Prince Consort's myriad of culinary offerings is head chef Jack Powlay, who joins the team after successful stints working as sous chef at Pottsville restaurant Pipit under Ben Devlin and with Ben Williamson at Gerard's Bistro. The fare encompasses the gastropub-style eats of The Prince Consort's ground floor, including the likes of the Prince Dog (smoked pork frank served with chilli, mustard, cheese and onion), whole roasted baby barramundi with burnt spring onion condiment and bronze fennel, Vanella burrata with apple, rocket and smoked almond, and a collection of woodfired pizzas. Upstairs at La La Land, folks will be able to graze on charcuterie and gourmet cheeses (including semi-hard Dellendale raclette, semi-soft washed-rind Monte Rosso and oak blue from Berrys Creek) and snacks including woodfired focaccia, warrigal greens and ricotta sausage rolls, sweetcorn croquettes and roast-lamb sliders. 400 Rabbits Cantina will boast six kinds of tacos to chomp on, as well as classic Mexican-inspired snacks such as ceviche, guacamole and corn chips.
As always, Greaser is the spot for American-style bar food, from jalapeno poppers and buffalo wings to cheeseburgers and fried-chicken burgers. As one would expect, The Prince Consort's beverage selection is similarly diverse, with 89 beer taps across the venue pouring mainstream international and domestic brews as well as quirky craft drops. The wine list spotlights recognisable Australian labels and up-and-coming makers, while the cocktail selection favours punchy and colourful concoctions – each one sure to tantalise tastebuds.