AURORA 2023 Finale ft. Torren Foot & Airwolf Paradise
December 23 @ 6:00 pm
$39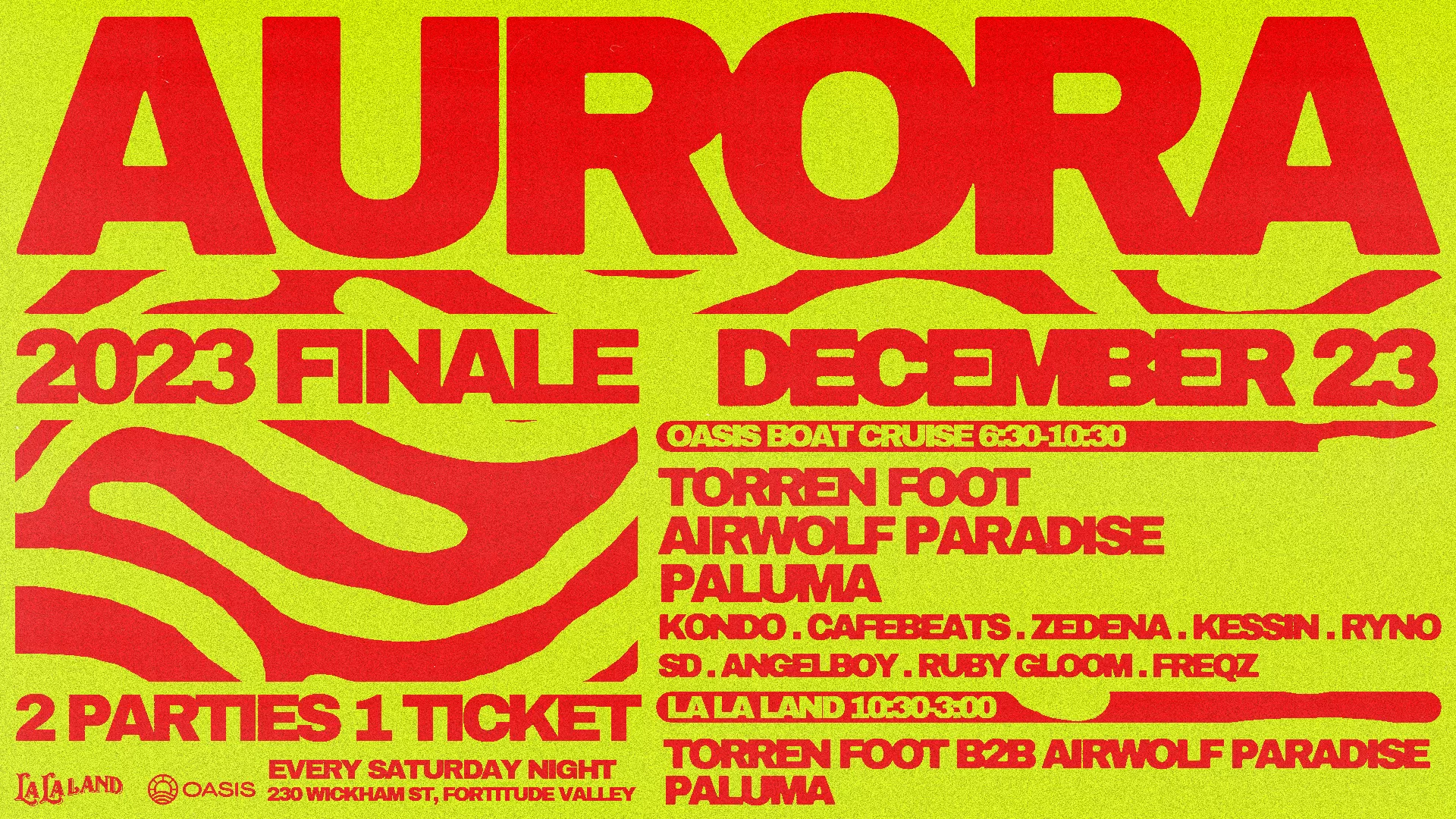 AURORA 2023 Finale ft. Torren Foot & Airwolf Paradise
Did someone say boat party? We are taking AURORA to the water for the final show of 2023 with headliners and absolute legends of the Australian scene Torren Foot, Airwolf Paradise and Paluma, setting the tone for your Saturday evening and keeping you going late into the night across TWO venues all for ONE ticket.
A staple in the Australian scene, Torren Foot has become one of the country's most in demand DJ's – along with gaining a lot of international attention with releases like 'Candy' 'New Bottega' with Azelia Banks or 'More Life' which went #1 on Beatport amassing over 6 million streams. It is safe to say it has been a busy few years for Torren.
Joining Torren we have fellow Melbourne local Airwolf Paradise. Known for his high-quality creative output and respected creative portfolio, he has established himself as a tastemaker in the Australian scene, constantly being heralded for his production prowess and regular support from big names like Patrick Topping, Solomun, Jamie Jones, Danny Howard, Solardo, Dennis Ferrer and MK.
Our third headliner is the king of the Sunshine Coast, Paluma. Bringing his sizzling hats and blistering basslines that keep you coming back for more, the last few years have been huge for Paluma with his tracks 'LDN FERG' and 'Britney' blowing up and making their way into sets and playlists on industry heavyweights like Archie Hamilton.
Capping off the line-up we have RYNO, CafeBeats, Zedena, Kondo, Angelboy, SD, Freqz and Ruby Gloom as your La La Land supporting DJs – adding that touch of home to Oasis.
Send off another year of AURORA with us onboard the Oasis this December. Tickets are on sale now so don't wait around – with limited entry this show is sure to be a sell-out!